Woman Bashed for Being Mad Her Groomsman Boyfriend Ignored
5 min read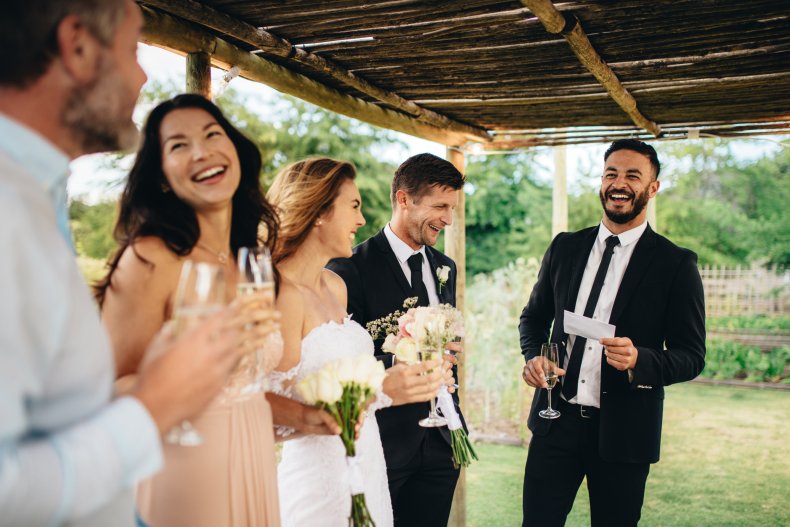 A woman is being criticized over her anger that her groomsman boyfriend didn't pay attention to her during the wedding.
Writing for the popular Reddit forum r/AmITheA**hole, u/plusoneaita shared her story, asking "[Am I the A**hole] For leaving a wedding early because I felt my BF was ignoring me," earning 2,600 upvotes and 1,500 comments in the last 10 hours.
The original poster (OP) says that she's been seeing her boyfriend for about four years. This weekend, the couple attended the wedding of one of her boyfriend's close friends and he was a groomsman. She explains that it was a huge wedding with about 200 people, but she's got social anxiety. Not only does she not do well in crowds, there were very few people there that she knew.
Since her boyfriend was a groomsman, he was busy with wedding preparation work for most of the day, and had to leave much earlier than she did. She spent the time staying at her hotel until the event was going to begin.
"I did talk to him for a few minutes before the ceremony, but after that I barely saw him the entire night," u/plusoneaita wrote.
During the reception, the wedding party sat together at a separate table, while their significant others were seated at a separate table. She says her anxiety was already "spiking," and was only able to briefly talk to her boyfriend after dinner, as the groom and his other friends kept pulling him away to dance or play games.
"I felt like my [boyfriend] was ignoring me and I was already at my social limit, so I found him and told him I was leaving. He tried to convince me to stay and celebrate with everyone and to get out on the dance floor with him, but I refused. I don't like dancing, it's just not my thing," u/plusoneaita wrote.
She returned to the hotel to wait for her boyfriend, as he hadn't responded to any of her texts. He didn't return until 3 a.m., and told the OP that he hadn't responded because his phone died during the night, and he and his friends went out to a bar after the reception. She was very angry that he hadn't checked in all night.
"I told him I was worried about him because I couldn't get a hold of him. He said that wouldn't have been a problem if I had just stuck around and had fun. I told him I felt like he was ignoring me the entire time. He said he was a groomsman in a close friend's wedding, he had things he had to do. He said he had tried to get me to stay and dance and have fun, but it was clear to him that I had already made up my mind to leave," she wrote.
She said that she felt like an afterthought the entire day, while he hit back that she should "get over" herself, as he was there to support and celebrate his friend's wedding, "not to babysit" OP.
"He told me he was disappointed that I couldn't even hang around for one night to celebrate and that I made the decision to leave on my own so I can't blame him for anything," she wrote, adding that she's still angry and he has not apologized to her.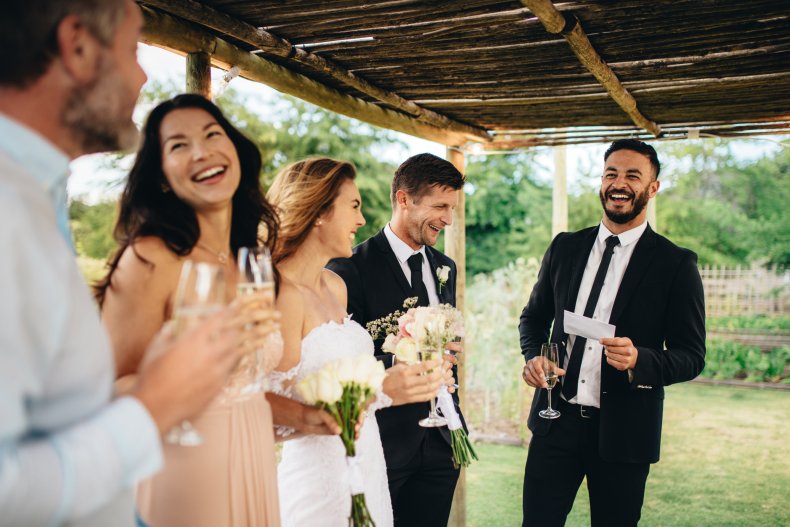 Though the best weddings are, ultimately, parties, there is a lot of hard work that goes into them. Groomsmen and bridesmaids have their own duties, too, to make sure the wedding goes smoothly. In addition to getting their own formalwear, wedding site the Knot also says that groomsmen are responsible for showing up for all the prewedding events—including the engagement party and rehearsal dinner.
They are also supposed to plan the bachelor party with the best man and potentially deliver a speech or toast. Ultimately, the most important thing is to be willing to help out however is needed, be it decorating, ushering people to their seats, giving guests information as to where they need to go and being there to support the groom. And when the wedding's over, if help is needed to clean up, that's also on the groomsmen.
Redditors had harsh words for the OP.
"[You're the A**hole] He's right. His duties that day were to the groom. That is what a groomsman is," u/mdsnbelle wrote in the top-rated comment with 11,100 upvotes. "Are you always this exhausting or just when he dares to focus on someone that's not you?"
"OP needs to recognize that it's okay and actually healthy to spend time apart from their partner. It was perfectly fine for her to go back to the hotel. It was perfectly fine for him to stay and party with the wedding party and his friends. It's NOT okay for her to be mad that they both did what they wanted to do," u/Palindromer101 agreed. "[You're the A**hole]."
"[You're the A**hole]," u/Kim_Smoltz_ wrote. "He needed you to be there without taking up a lot of his energy/attention. That's you supporting him while he supports his friend. It would be one thing to leave and wish him well/hope has a good time. It's entirely [a**hole] territory to have these insane expectations of attention."
"[You're the A**hole]- I GET social anxiety, and in your circumstances would have ABSOLUTELY left too, my stress levels would have been through the roof. Leaving and going home makes 100% sense and is fine," u/peithecelt wrote. "But the MILLISECOND you blamed him for focusing on his friends at the wedding, and not on you? You became the a**hole. It wasn't a YOU event, it was an event for the friends who were getting married.. Being a little sad, being a little lonely, I'd 100% support those feelings.. But blaming him for not catering to you, and then expecting him to apologize to you? Yeah.. No.. He doesn't owe you an apology, at all."
Newsweek reached out to u/plusoneaita for comment.