Bride Backed for Serving Cheaper Food at Wedding Reception:
4 min read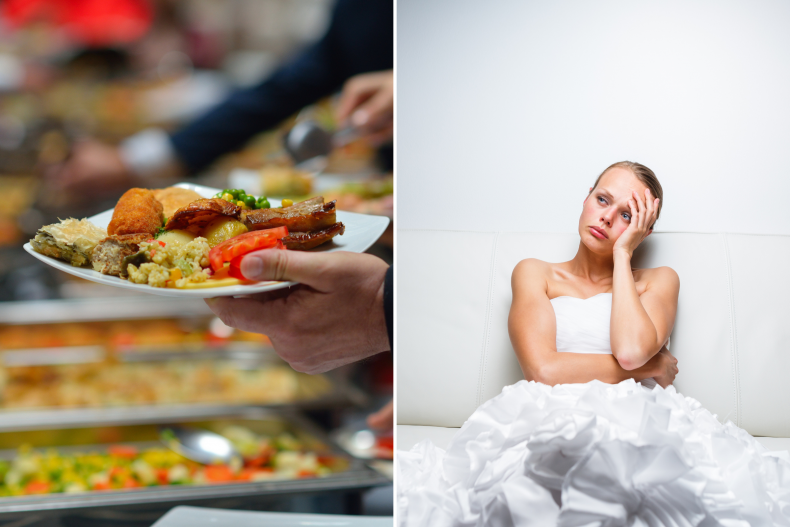 You can't please everybody, and that's particularly true when it comes to weddings. Although stories of bridezillas regularly go viral, there's also a never-ending supply of nightmare guests to go around.
From a "petty" mother-in-law showing up in a white dress, to "out of line" jokes in the best man's speech, with so many personalities in one place, you just can't predict how the big day will go.
Still, one guest's pre-wedding food complaint put a bride on edge before her ceremony had even begun. Posting to Mumsnet's AIBU (Am I being unreasonable?) forum on Saturday, the woman asked if she was "being stingy" by choosing to have a buffet rather than a sit-down meal at her wedding.
User MimosasInFrance explained that she and her fiancé were forced to plan their nuptials quickly due to a family member's illness. As the ceremony was during the festive season, they'd decided to have a Christmas-themed hot buffet for their wedding breakfast.
No One 'Going Hungry'
She wrote: "We've opted for a hot buffet for the meal – likely a Christmas carvery type situation (a nice one!) because we felt that was a bit more relaxed and also, honestly, it was cheaper.
"I also thought people who have particular food habits (like members of my family!) might find it less stressful than a three-course sit down affair.
"We're serving plenty of wine and soft drinks etc. It's a twilight wedding so I don't think anyone should be going hungry."
However, a relative's comment has the bride now questioning her decision.
She continued: "I've just had a reaction from a family member who seems to think this is akin to serving beans on toast, and it's thrown me into a panic. Will everyone hate this and think we're being stingy?
"I'm trying not to get sucked into everyone's expectations as I know that's how costs get out of hand.
"Aibu to serve a buffet?"
There are an estimated 2.6 million weddings taking place in the U.S. in 2022, the most since 1984. According to The Wedding Report, couples who previously had to postpone or cancel their weddings due to COVID are responsible for the huge number of ceremonies taking place this year. However, the effects of the pandemic can still be seen, with couples having to face record costs to walk down the aisle.
The average cost of a wedding has risen from $24,000 to $27,000 post-pandemic, thanks to the highest inflation in 40 years. Venues are also set to lose money due to delayed weddings, with agreed pre-pandemic rates not covering today's ceremony costs.
Mumsnet users saw no problem with the bride's buffet plan, with almost 200 comments from people showing their support.
"A christmas buffet carved sounds like heaven!" said quitefranklyabsurd.
USaYwHatNow agreed, writing: "I think it sounds like a lovely idea. Warm comforting food at a winter wedding-perfect!"
Many users reminded the bride that it's her wedding, so she and her fiancé should choose what makes them happy.
"Your wedding, your rules," said Iamnotamermaid.
"It's a free meal for them, no one has a right to complain or say they don't like it!" wrote sintrawest.
"Do what YOU want at YOUR wedding," commented Ginandslippers. "If they don't like it, they don't have to come, simple."
Helpful Suggestions
Although 1VY did have some suggestions to support guests who might struggle with a buffet.
"[It] can be very awkward for some guests, especially older relatives [or] guests with disabilities who can't stand in a line for 10 mins balancing a plate," she explained.
"I think it works better if you have staff serving the food, as it's stops the greedy bastards who push [to] the front taking more than their fair share.
"[Basically] you need someone from the waiting staff to MANAGE it, perhaps calling up tables a few at a time and prioritising older relative etc."
A user purporting to be an events planner agreed, adding: "As an events planner I strongly urge you to consider the logistics of the layout. You'd be surprised by how many venues don't plan this properly at all.
"It sounds crazy, but I mimicked the set up of some really big events to streamline lunches, and they really thought through everything like, where does cutlery get picked up, where does rubbish go, what are people holding.
"The feedback [improves] dramatically if you think about the logistics."